XKGLOW is a leading LED lighting company in Springfield, Illinois since 2009. We believe automotive lighting should be more interactive, long-lasting, and bright.
At XKGLOW, you won't find a generic design and "just-so-so" function. Every XKGLOW design and feature is crafted through countless sketching and prototyping until we are confident and proud to put them on our own vehicles.
Our passion and beliefs push us to not only go the extra mile but chase what's Light Years Ahead.
Our Story
XKGLOW was founded in 2009 during the height of the financial crisis. With a shared passion for automobiles and an educational background in industrial design, Dan & Eric started working toward their dream in a small building in Dan's backyard.
"I still remember that in the early days, we hand-packed every package like Christmas gifts, and carried a full bag of boxes to the Post Office, saying to ourselves 'I wish we could have this many orders every day.'", as Eric recalled.
In 2011, we realized the potential of smartphones and apps to reshape the world, including the automotive lighting industry. Compared to the traditional remote key fob, the smartphone is the ultimate control center with features such as powerful sensors, a microphone, GPS, and a camera that can become a new way to interact with LED lights like never seen before. We set out to develop the app and a control system hardware that can achieve this feat.
Instead of using generic parts to make lighting products like many other players in the market, we always took the hard route and designed every part in-house for the ultimate performance of each function, even down to the little connectors. We developed it all in-house and have been doing that to date.
11+ years later, our 3rd gen XKCHROME app is the most popular and reliable LED lighting Bluetooth-enabled control system in the automotive industry, and we are happy to announce that after 4+ years of research & development, the 4th gen XKALPHA system is already on the horizon. XKGLOW's advanced & user-friendly app and a large selection of compatible lighting parts set its own standard and they never stop pushing the limit.
Today, XKGLOW is one of the leading providers of LED automotive lights and accessories. We're dedicated to providing our customers with high-quality products and exceptional customer service, focusing on helping people light up their lives with excitement and style.
Our Culture:
We are NOT just a LED lighting company, we are more than that. We are a team of car lovers, bike riders, & off-road enthusiasts. We are a community of automotive enthusiasts who attend automotive shows, who go to meets, and who love customizing vehicles for fun. There is no corporate poker face or dark cubicle here, only your passionate XKGLOW folks behind every product that goes from our garage to yours.
Just like our customers, every XKGLOW team member is passionate about automotive, thus every XKGLOW product should meet the standard that we will proudly and confidently put on our own vehicles before it reaches your hand. We only sell what we would use for our own rides.
Sometimes our team members even go beyond the norm to test the products in creative and extreme ways:
In the 2016 movie Nerve, XKGLOW's lights reached the big screen and were outfitted in the Triumph Bonneville driven by actor Dave Franco.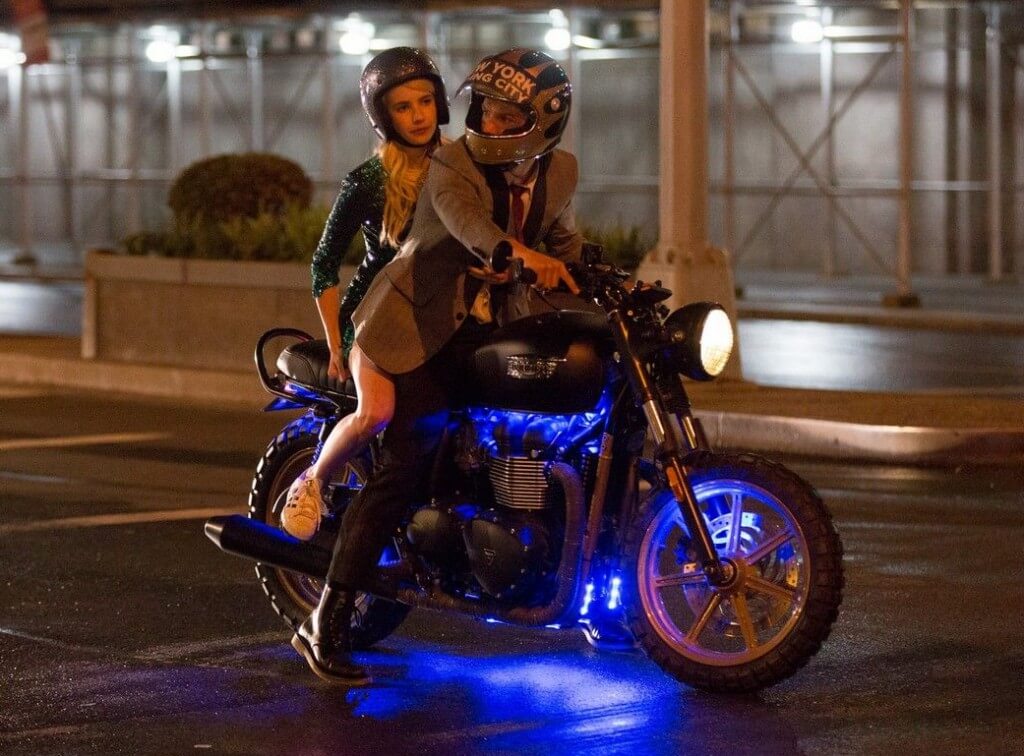 Our Values:
XKGLOW is a people-first company. We believe our customers, dealers, and everyone affiliated with our company come first. That is why we always showcase our community at every chance we get.
XKGLOW values the relationship with our local dealers and installers as our most important asset. The dealer map is promoted on all of our product pages for customers who are looking for local shops or installers. A wide selection of marketing/sales supportive materials is readily available. We introduced "Dealer of the Month" to further appreciate our dealers by showcasing their work and story on our social media & our website.
XKGLOW regards the customers the highest. On our smartphone apps, we have Circle where people can share their photos and experience as well as interact with other customers via direct messaging. On our social media channels like Facebook & Instagram, we proudly showcase photos and videos from customers. Not only that, but we also tag them and give credit to them. In the caption of these photos, you will always find a crown symbol (👑) next to the customer's mention as we believe that the customer is a king in a true manner.
Our support team is most dedicated to our customers and makes sure that no issues or questions go unsolved. This IG post fully captures our sentiment toward the customers.
The comments on the post also show the love that our community has for us.
Apart from this, we also partner up with our customers via various sponsorship opportunities and giveaways. Find the sponsorship application here. We also have sponsorships for the SEMA show. Apply here.
We also feature and promote customer videos on our Youtube channel. Some of the customer testimonials: