Snowmobile enthusiasts often spend their winters trekking through the woods and up the hills on their sleds. And while riding in the dark can be a lot of fun, it can also be dangerous.
That's why many riders are now choosing to add LED lights to their rides. LED lights not only make you more visible to other riders, but they also allow you to see obstacles and hazards in the trail ahead better. Apart from adding visibility, snowmobile lights also add a new level of excitement to your riding experience.
One such addition to your lighting choices is Snowmobile Underglow Lights (or Snowmobile Accent Lighting, as some people would call it.). Snowmobile underglow lights are a great way to personalize your ride and make it stand out from the rest. They are perfect for making sure that your sled can be seen by your fellow riders - so that everyone can enjoy their time out on the trails safely.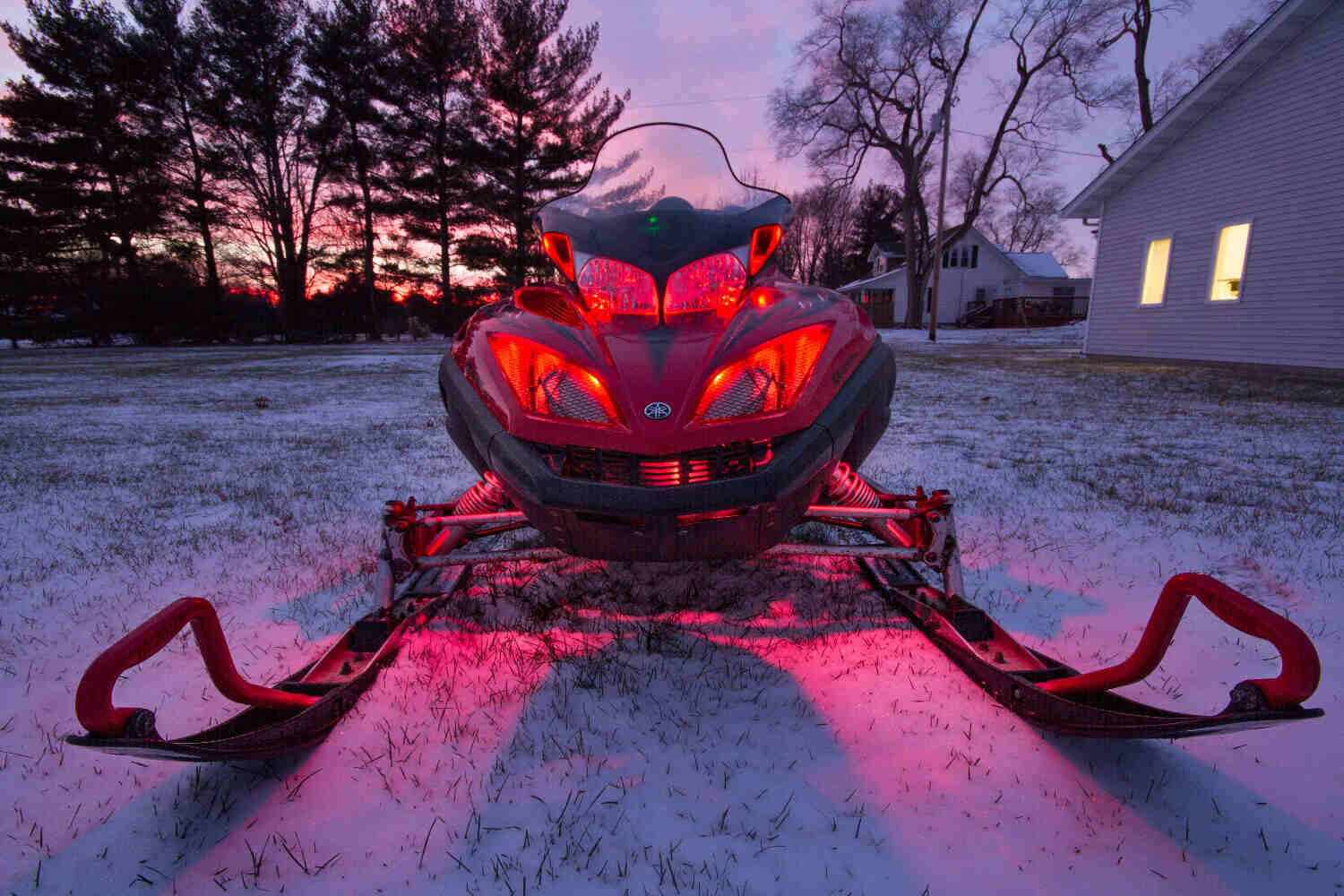 One name that comes to mind while we're talking about snowmobile LED lights is LEDPowersports. They were one of the first to install LED lights on snowmobiles years ago.
XKGLOW is excited to introduce LEDPowersports (East Longmeadow, MA), one of our long-standing dealers, as the first dealer to be featured in our "XKGLOW Dealer of the Month" campaign for January 2022. We appreciate LEDPowersports' efforts and commitment to XKGLOW. They have truly been a great partner.

Introduction: LEDPowersports - XKGLOW Dealer of the Month - January 2022.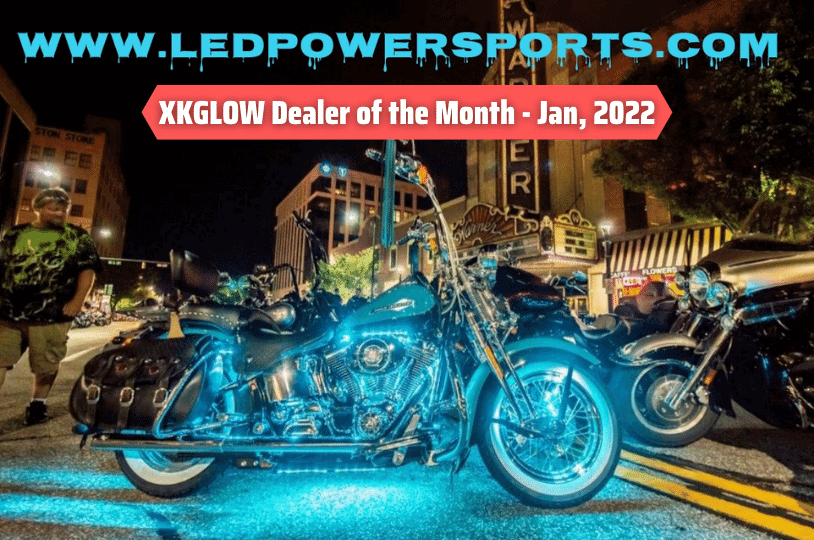 Michael Trombley Sr. is the owner of LEDPowersports, one of the largest dealerships in New England that sell and install LED lights. Mike has been around the automotive and Powersports industry for more than a decade now.
LEDPowersports was the first to introduce LED accent lighting to the snowmobile world 13 years ago. At the time, there was little to no use of LED lights in the snowmobile industry.
Learn how Michael's team paved the way for LED lights to enter the snowmobile market, in Michael's words —
The initial years: Introducing LED Lights to a new market.
As for my background, I have multiple years of experience in the Automotive and Powersports industry, from riding the vehicles, to building them.
When we first started our business, it was tough because we were introducing LED lights to the snowmobile world. At the time, it was fairly new to the Powersports vehicles. Most people didn't want anything to do with them. So we equipped our own sleds with XKGLOW underglow lights and hit the trails to promote the products.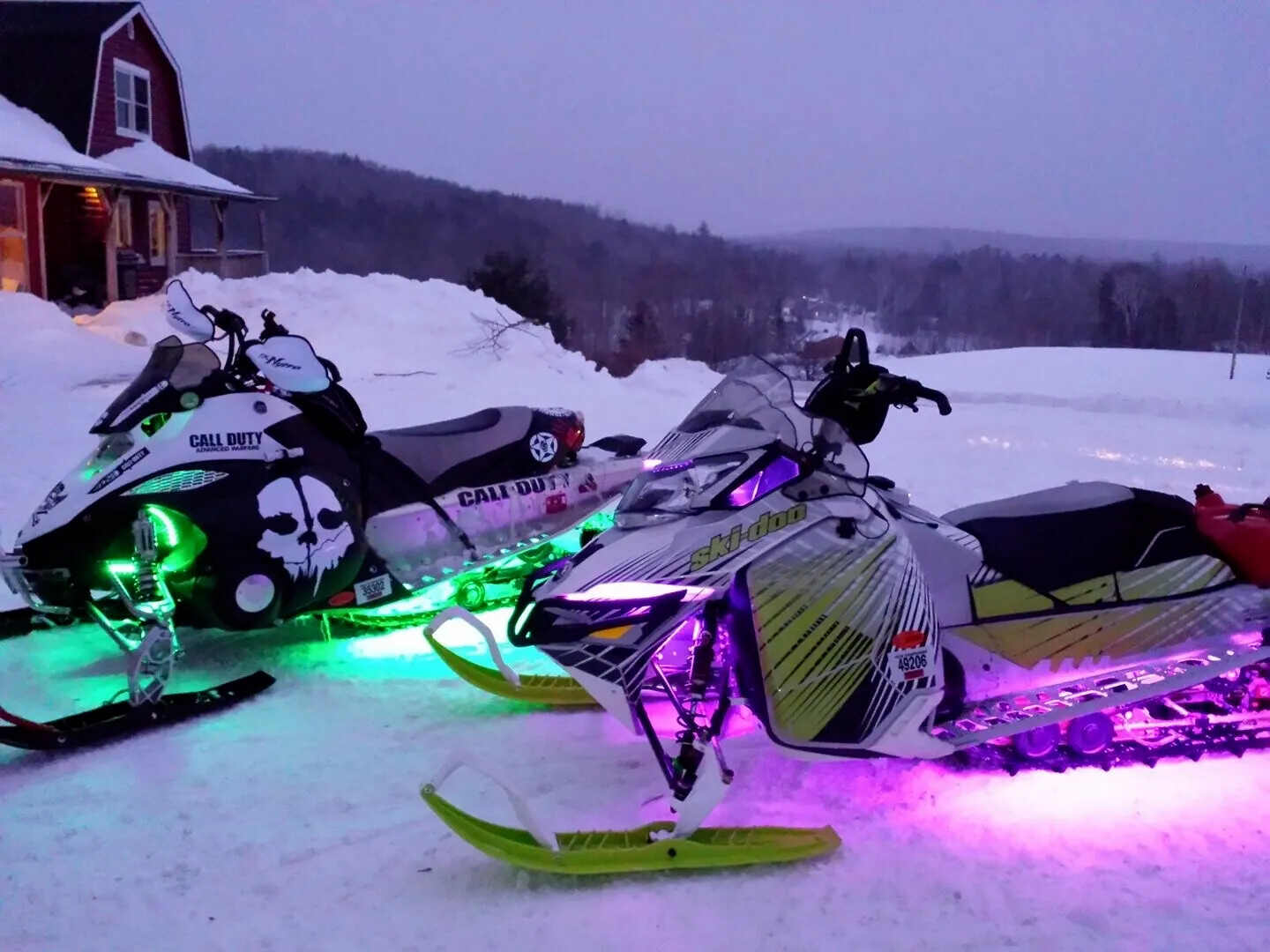 Gradually, The lights began to catch on. We saw a rise in interest for snowmobile underglow lights among the Powersports community. So we built a website and started going to all the snowmobile events, motorcycle shows, and bike nights to promote the products. Along the way, we realized that it wasn't enough to sell the product. That's when we started to install the XKGLOW products on motorcycles, snowmobiles, and ATVs.
Currently, we install LED lights on all categories of the vehicles such as motorcycles, cars, trucks, boats, ATVs, and much more. We also provide installation services for all of your LED lighting needs such as underglow lights, headlights, fog lights, tail lights, light bars, LED light bulbs, etc.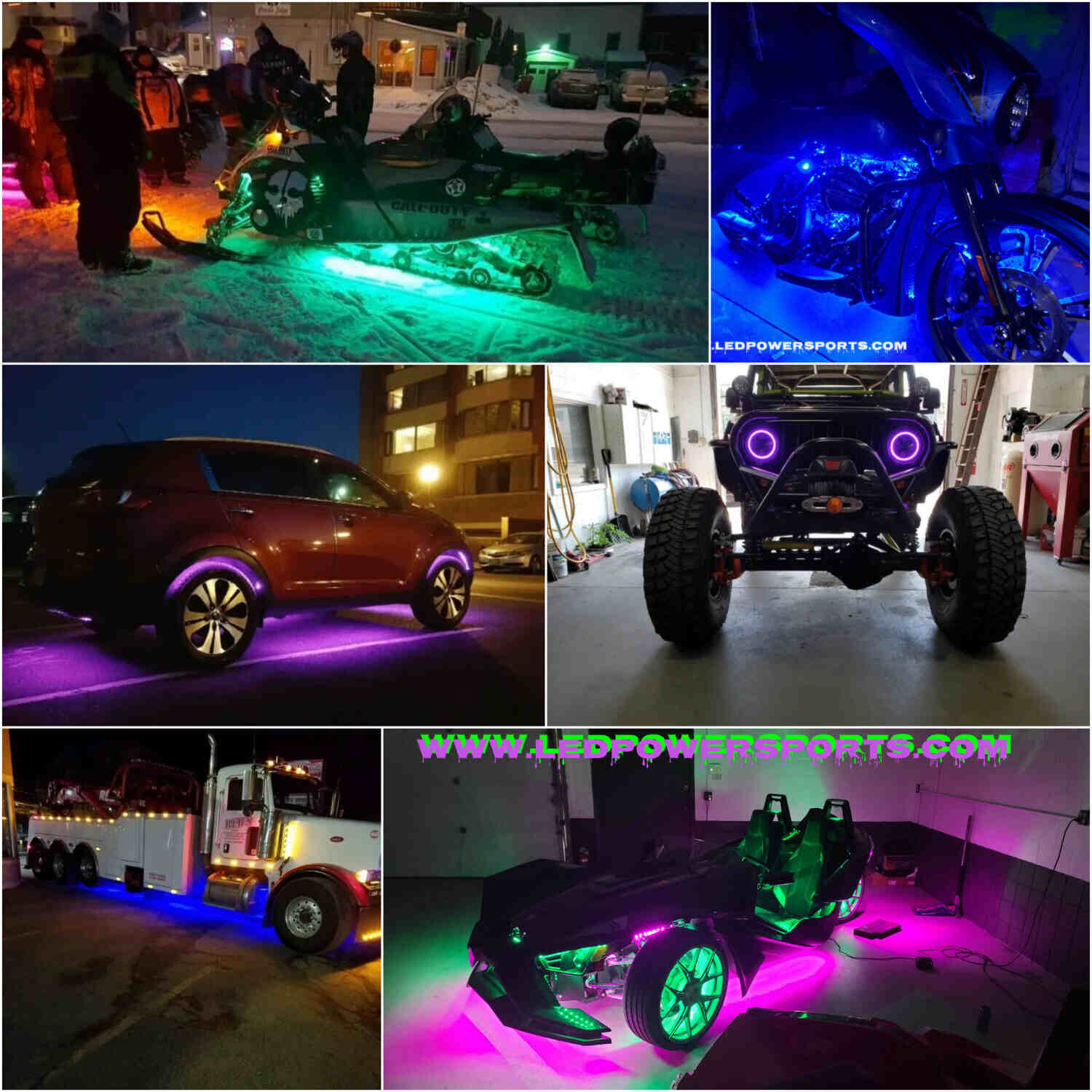 What is the Favorite Part of Being a Business Owner?
The finished product. There is nothing more joyful than seeing a vehicle all light up after the installation is done. I love seeing how the customer's vehicle looks like with the lights on!
Another thing I love about my business is that I meet lots of new and amazing people while traveling to the various automotive events around the United States.
What sets LEDPowerports apart from the rest?
One of the things that set LEDPowersports apart from the rest of our competitors is that we are mobile. We come to your home, garage, and even at the place of your business to perform the installation so you can sit back and relax.
We provide our services to all of New England. Additionally, we also travel to Florida for major bike events to install our LED lights on customers' vehicles.
We specialize in providing LED installation services to motorcycles and snowmobiles.
Experience with XKGLOW as a Dealership Partner:
Our experience with XKGLOW has Been nothing but perfect. They are one step ahead of the competition and are always coming up with new products to stay on top of the game.
What I love about XKGLOW is that they stand behind what they sell, and it reflects in everything they do.
Wrapping up: Light up the snow with some underglow
Are you based in the New England area and looking to add some functional or accent lighting to your snowmobile, ATV, UTV, motorcycle, car, or truck? LEDPowersports can help you with ALL your lighting needs.
Hours of operation:
Sunday - Saturday: 7 AM - 10 PM
Installations service provided:
Weekdays: After 5 PM
Weekends: Anytime
The owner, Michael Trombley sr, invites you to customize your vehicle to the next level by adding some LED lights at 182 Patterson Ave, East Longmeadow, MA 01028, US, or you can always say hello to them online at LEDPowersports and book your appointments with them. You can also follow them on Facebook, Instagram, and Twitter.
Contact Info: 413-847-1743
Email: info@ledpowersports.com
XKGLOW applauds their journey to bring a colorful glow to the white snow. We are happy to feature LEDPowersports for our dealer of the month campaign. We are thankful for their support and service over the years.
Interested to see more? Find the image gallery of Mike's work for his customers.
If you're interested in becoming a dealer for XKGLOW, submit your application to our dealer program.