There are probably over half a million Model 3 out there. But this one surely looks like nothing you have seen before. Take a look at what our customer, Dr. Gregory Chew @teslachew from CA did with XKGLOW Fiber Optic components to turn his Tesla Model 3 into "Cyber Party Mode".
If you are a music enthusiast like Dr Chew, be sure to watch this short video showing the glow dancing to the music with colors of your choice. In a recent interview with TESLARATI.COM, Dr. Chew told TESLARATI "I started searching the internet to look at different options currently offered. XKGLOW has a good reliability report and used the least amount of power to run," Chew tells Teslarati.
What are used to achieve this:

Wondering what all you'll need to achieve this ultimate look? Here is a complete list of products that were used for this particular build.If you wish to purchase a complete set of the exact items used in the below setup, please email xk@xkglow.com and mention which column(s) do you want to purchase. we will send you a Paypal invoice for your convenience.
With Greg's help, we created the below table for your convenience.
For those of you not looking to go quite this extreme we do offer 2 starter kits priced at $104.99 and $149.99 that will give a nice accent and the option of building on later as these are plug-and-play. You can still enjoy all the exciting app features mentioned above. But if you can never get enough light on your vehicle, be sure to consider the exterior underglow kit so it's lit up inside and out.
** You may need the following two non-XKGLOW parts per Greg's suggestion. DM @teslachew on Instagram for the link.
- 1pc 12v 3-way hub
- 2pc Carbon Fiber Seatback Overlays - Needed only if you wish to copy TeslaChew's setup.
Try our Advanced Interior Kit Builder:
Installation Tip
1- Connecting to the power source
Since there is no 12V car battery to attach the electronics to, many people wonder how to get power when it comes to lighting on an electric vehicle. Here are a few options for you to consider:

For Constant 12v source:
When the car is "awake" or when sentry mode/camping mode is active (Origin of wire leading to 12v cigarette lighter in rear console):
If you wish to switch on/off the kit, XKGLOW offers a variety of switches that can be added between the power source and the controller.
Cigarette Lighting Plug-in:
The two above methods will require certain knowledge about Tesla to operate but it offers a more clean look. Alternatively, you can directly purchase the XKGLOW cigarette plug as a direct plug-n-play solution.
2-Modifying the optic fiber
When bending optic pipe along curves, various trimming of the "flange" would help you achieve a smoother bending conforming to the body shape. The smooth curve also helps evenly distribute the light because when there is a sudden bending, the sharp corner tends to trap more light than the other parts. Below is an example of how the optic fiber is trimmed to conform to the 3D curves of the seat back cover.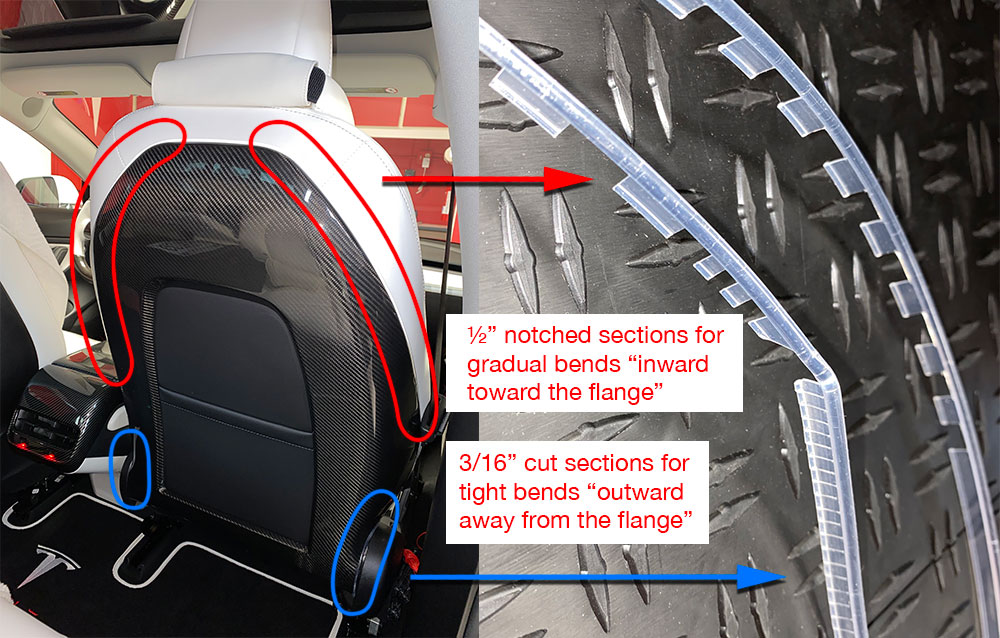 For the optic fiber that is hidden behind the body panels, trimming off all the flange and adding a heat shrink will help both 'routing the fiber' and 'conserving the brightness'.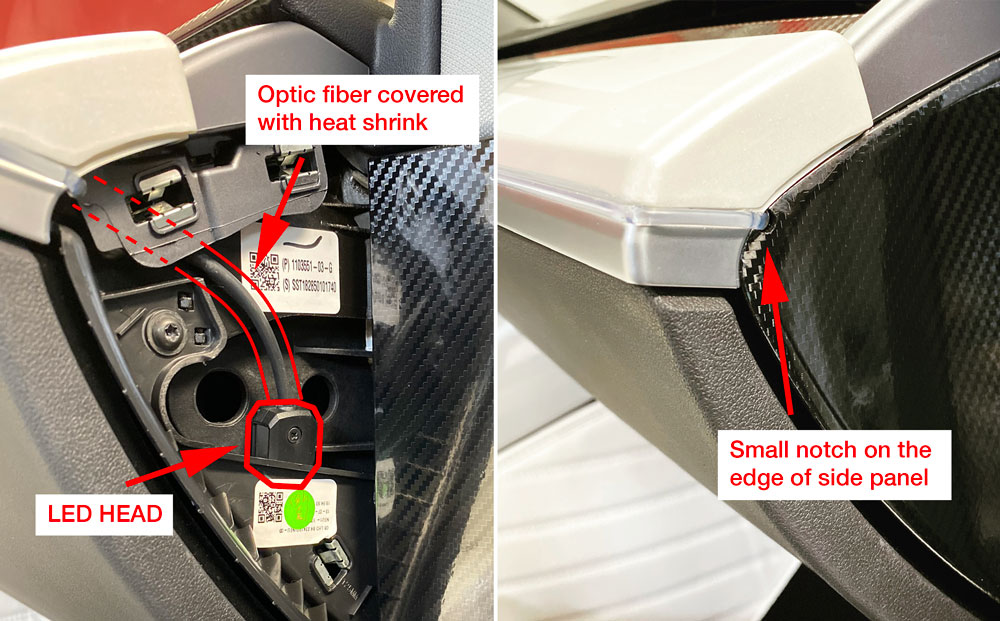 It is recommended to add LED heads to both ends of the optic fiber if a continuous fiber more than 4ft is used.
Each 5V mini controller is capable of powering up about 10 LED heads with splitters.
3- Door panel lighting
Each door panel is lit up with the combination of a 5V fiber optic and a 12V pod or strip. Below is an example showing how the wires of the 5V and 12V systems are routed behind the door panel, and how the door panel look like after it is done. All four panels are built with the similar method.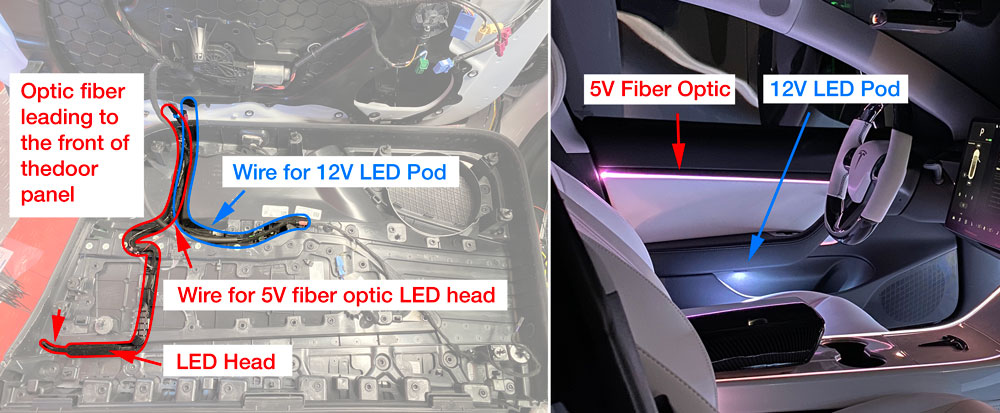 4- Under seat lighting
In addition to to the fiber optic pipe, 10in flexible strips were added to the locations marked with red in below pictures to create the even ground effect.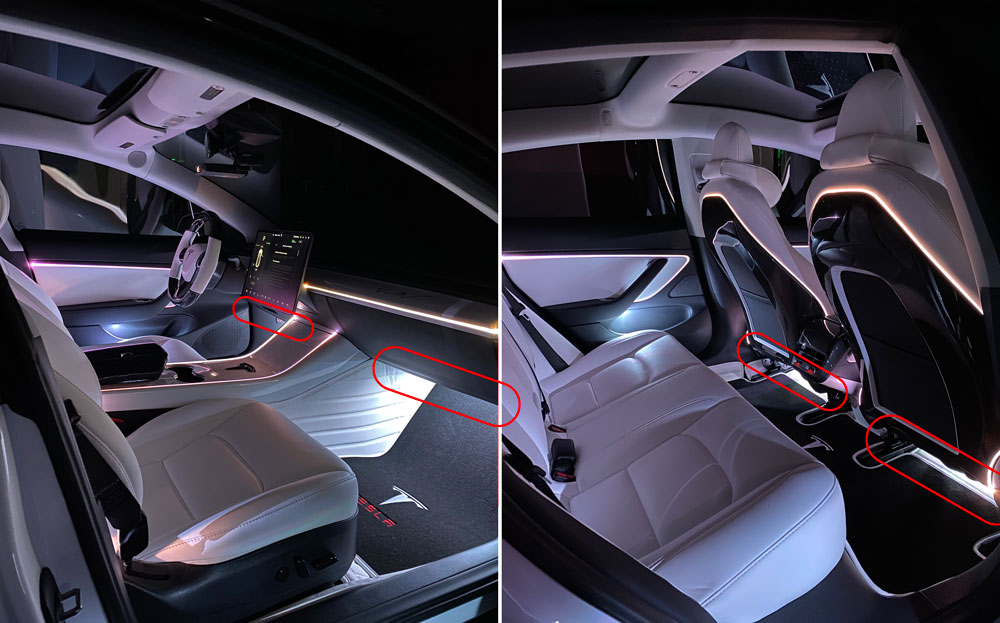 5-Keep it organized
Last but not the least: Plan ahead of installation. Use zip ties, clips and Velcro to keep wires and controllers organized. Locate all controllers to one easy-to-access location, so when testing, troubleshooting or upgrading is needed you can easily access the core components. Needless to say, it brings you the ultimate satisfaction seeing this level of organizing is complete and everything works flawlessly.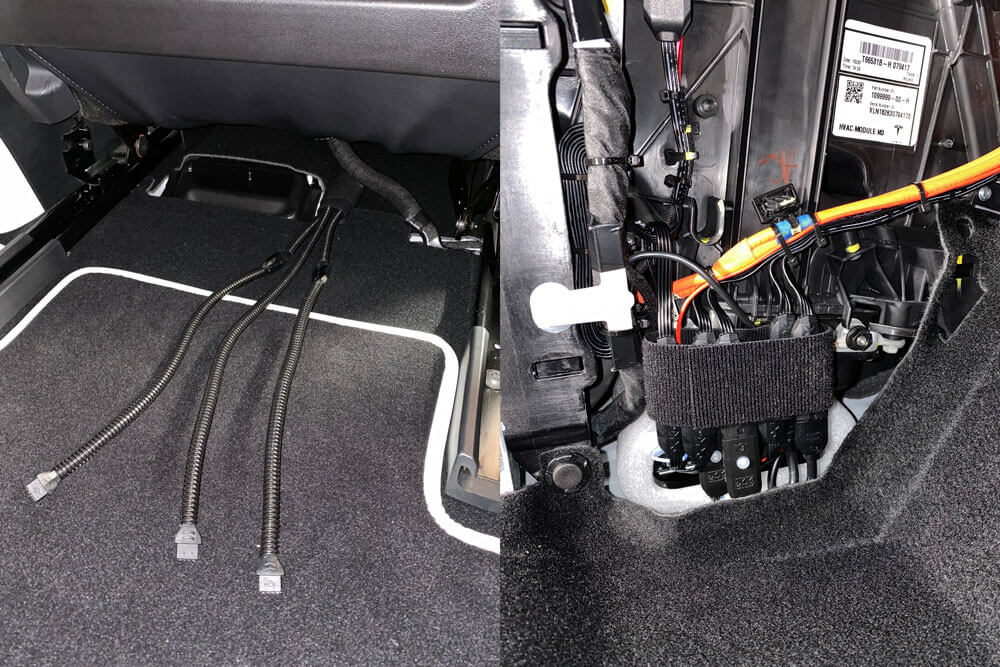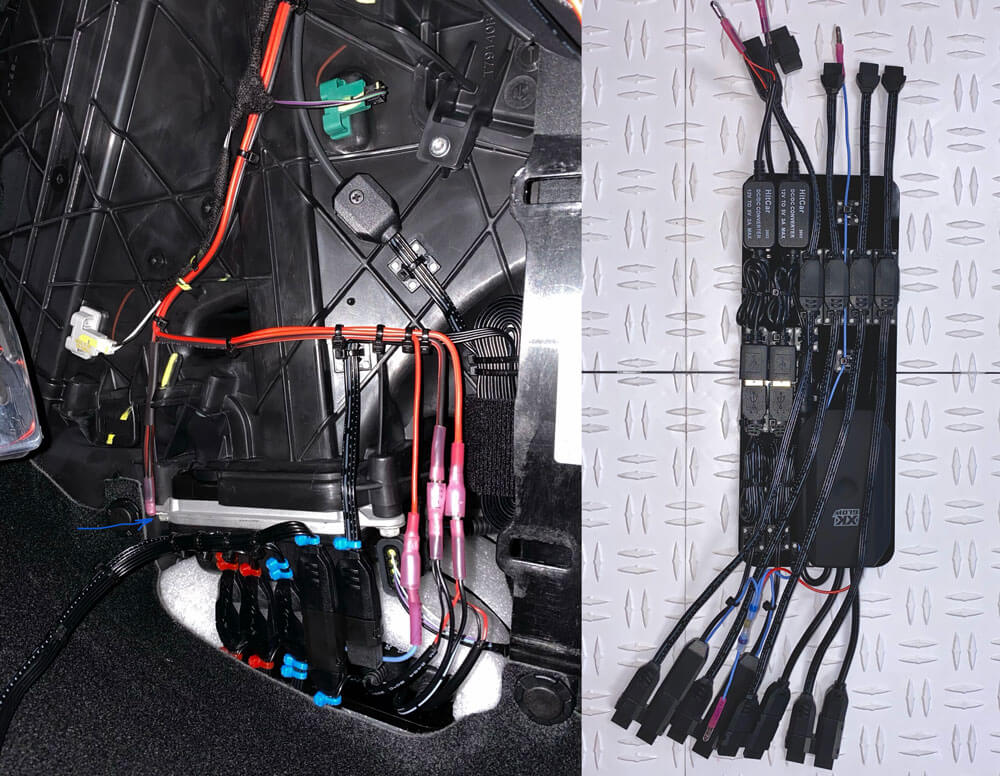 Again, we want to give a huge shout out to Dr. Gregory Chew for his hard work and dedication to this project. What an amazing build! Be sure to follow him @teslachew on Instagram or twitter.
Interested to see more? Here are some more featured videos from our other customers.
As always, please feel free to direct any product questions to us at xk@xkglow.com.